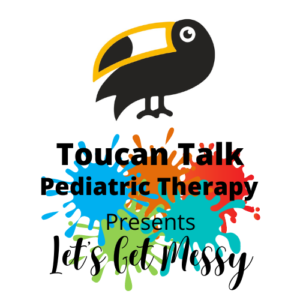 Messy play allows a space of unlimited curiosity and exploration. It allows children to familiarize themselves with new sensations, textures and new ways to play.
Getting messy also helps parents in their own exploration towards joyful and exciting learning opportunities.
Gift your child with creative freedom in the Get Messy Toddler Class ongoing every Thursday
Day: Thursdays
Time: 10am
Venue: Clermont Garden Club, 849 West Avenue, Clermont, Florida.
Cost: $10 per session
The Theory Behind the
Mess
Giving your child the free space to play will spark their curiosity and exploration. Messy play allows kids to experience unrestricted creativity and learning opportunities. It gives your kids the ability to experiment with engaging their senses with new sensations, textures, and unique ways to play.
This class helps children develop:
- Gross and Fine Motor skills
- Sensory skills
- Creativity
- Language Development and Literacy
The Let's Get Messy class from Toucan Talk features two fundamental programs for messy play: Mark Making and Sensory Play.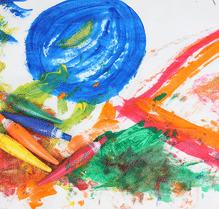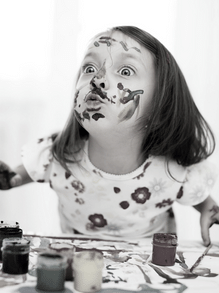 Mark making is when your child starts to make scribbles, patterns and shapes. Many different tools (including their own hands, fingers, feet and toes!) are used to make the process a more fun and direct experience.
Mark Making helps with:
-recognizing and practicing key motor movements for writing
-providing the first steps towards creative initiative and expression
-preparing your child for formal writing education
Our mark making program also introduces four fun characters that helps your child learn the main marks that are essential to developing the motor skills for writing. Here's Betty the Bee demonstrating her buzzing swirls, one of the four main marks:
In the mark making class, we encourage your child to familiarize themselves with the process of "making their mark". The repetition of these marks and more shapes strengthen their recognition of these shapes. They will grow more confident about writing even before they set foot in school.
Sensory Play helps your child's brain to build nerve connections that improve their ability to do more complex learning activities. The Let's Get Messy class provides different themes every week where your child is introduced to a variety of different textures, materials and tools to enhance this process.
These sensory activities are child-led and they are encouraged to take initiative when exploring the senses. When exposed to activities that engages multiple senses, children also develop scientific thinking and problem solving.
These experiences also allow more opportunities for your child to communicate with how they sense the materials around them. This promotes and stimulates learning, including language growth and development.
Sensory play helps with:
familiarizes your child with using their multiple senses
encourage your child to lead in play
helps your child's brain develop for complex learning activities
Our program also makes sure that every play opportunity is appropriate for every type of learner. We explore different ways of learning (auditory, visual, or kinesthetic). We focus in creating a fun learning experience by engaging your child with the kind of play they love.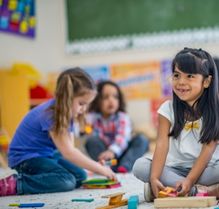 Need to learn more about play-based development for your child?
Our development class is for parents and children that need more professional support in conducting play.
This course is currently under development, so stay tuned for more information soon!
Edit or remove this text inline or in the module Content settings.
Edit or remove this text inline or in the module Content settings.
Edit or remove this text inline or in the module Content settings.
Edit or remove this text inline or in the module Content settings.
Your own Wash Cloth
Your own Towel
Babies must be wearing a standard nappyat all times – please note that swim nappies are not permitted
Toucan Talk will provide warm, soapy water for you to use throughout every session.
Parent(s) / Carer(s) Responsibilities:
Whilst attending Toucan Talk sessions, carer(s) are fully responsible for the care of the child(ren). Carer(s) must always remain with the child(ren) whilst accessing the activities provided. Some activities include edible elements, therefore anything consumed by the child(ren) is at the discretion and full responsibility of the carer(s). Any activity that does not include edible elements will be clearly identified by Toucan Talk staff. If there are any uncertainties, please raise these with us as soon as possible. If staff are informed of any allergies, we ensure that these are catered for. Only 1 adult per child can attend.
Clothing:
It is likely that some activities will result in clothing becoming dirty. Toucan Talk do not take responsibility for any damage to clothes because of the activities undertaken. Some activities will include food colouring, which may temporarily stain clothing and skin. Please bring baby wipes, towel, and spare clothes with you at all times.
Refund Policy:
Unfortunately, we are unable to offer refunds once a booking has been made. This is due to the limited number of places available at each of our messy play venues. Missed sessions for any reason can not to replaced at another venue or carried over to another term due to COVID-19 restrictions.
Privacy Policy:
During the Toucan Talk booking process, we collect a minimum amount of data about your and your child(ren), which is stored on secure servers that support our website.
We collect:
your full name, address, telephone number and email address

your child(ren)'s name(s), date(s) of birth

allergy information to help us plan your messy play sessions
This information:
is only available to authorized Toucan Talk staff

will never be shared with third parties

will only be used to make direct contact with you in matters relating to you booking.
Conflicts of Interest:
All persons attending Toucan Talk sessions are not permitted to establish any similar messy play groups within a 30-mile radius of the venue that they have attended. All activities (i.e. materials, layout, themes and supporting reference materials) are the ideas and Intellectual property of Toucan Talk and must not be used and / or copied without prior, written permission from a Toucan Talk Director. All Toucan Talk branding and resource materials are subject to copyright and must not be used without prior permission from a Toucan Talk Director.
COVID 19 Disclaimer:
It is at your own risk that you attend our sessions however we have done everything we can to ensure you and your little ones are as safe as possible in our new style class. If you or your child(ren) are ill or feel unwell you MUST NOT attend or if you live within an area that has lockdown restrictions. Risk assessments can be maintained on request. If sessions have to be locked down due to a case of COVID-19, we are unable to give a refund due to having already allocated your funds. This is also something completely out of our control.